9. G-Shock G-9300-1 Mudman Solar Compass Watch
Solar-powered digital G-Shock with compass and thermometer sensors
Though flashier models have taken the spotlight recently, the G-9300-1 Mudman remains a solid performer that offers excellent value. Equipped with Tough Solar power and a Twin Sensor (with compass and thermometer), the Mudman is a maintenance-free digital watch with useful features for everyone. The G-9300-1 is a large-case model, but it is the smallest G-Shock watch with a compass sensor. The Mudman line goes way back to the 1980s and was responsible for laying the foundation for the Master of G series of professional-grade G-Shock watches. The current Mudman retains the extra-rugged mud-and-dust-resistant structure while maintaining a classic G-Shock look that is understated yet tough.
PROS: Smallest and most affordable compass sensor G-Shock
CONS: Buttons are harder to press due to mud-resistant design
BEST FOR: Hiking, trekking, travel, military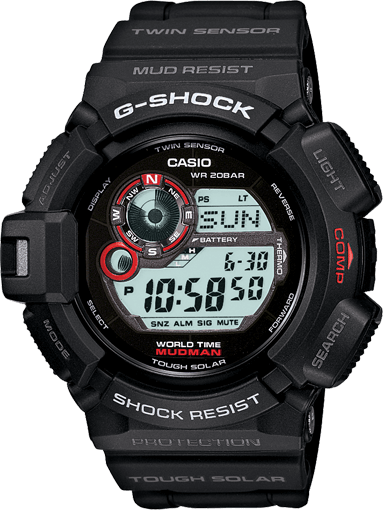 G-9300-1 on Amazon G-9300-1 on eBay
8. G-Shock GA-2000 with Carbon Core Guard
G-Shock enters the carbon era with a new affordable model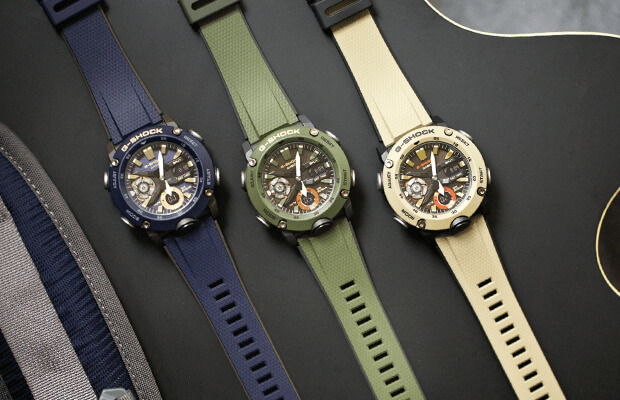 The G-Shock GA-2000 series utilizes the Carbon Core Guard structure which is billed as G-Shock's "third material" after resin and metal. The watch's inner casing is made of fine resin reinforced by carbon fiber that allows for a lighter and stronger design. The improved shock-resistant structure provides a sleeker and slimmer look than the usual chunky G-Shock shapes. (The GA-2000 is slightly smaller and lighter than the best-selling GA-100.) The GA-2000 also has quick-release levers built into the bands for easy removal. Casio plans to sell a variety of different bands separately including cloth and Velcro bands, and 24-mm quick release bands from other manufacturers will also fit. Other unique features include lay-flat bands, guardless buttons, a dual-layer stainless steel and resin case back, and a convenient front LED light button.
PROS: Lightweight, relatively slim, easily removable bands
CONS: Not solar-powered, approximate 3-year battery life
BEST FOR: All-purpose