The new BMW 7-Series plug-in hybrid range will feature a prominent new radiator grille and a new plug-in hybrid drivetrain when it goes on sale worldwide in April.
The plug-in hybrid variants in the new BMW 7 Series range take all of the luxury sedan's sporty prowess, passenger comfort and feel-good ambience and combine them with exceptionally high efficiency and the ability to offer a virtually silent, all-electric driving experience with zero local emissions.
If it is still moving to electrify all of its models, you may be thinking, "Well, isn't BMW just as serious about being an EV leader as before?" Maybe it is and it is just concealing that, but the difference between strong leadership via the BMW i EV program and what it is doing right now is pretty grand. The BMW i3 was a pioneering fully electric car. There was much hope that the BMW i5 would be a Tesla Model 3 or Tesla Model Y competitor. There was hope the BMW i program would roll out a handful of fully electric models within a few years. Instead…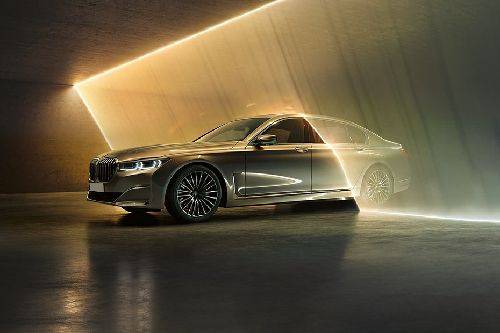 BMW is electrifying its fleet by rolling out plug-in hybrid compliance cars with a tiny amount of electric driving range. The BMW 330e has 14 miles of electric driving range according to the EPA. The BMW X5 xDrive40e again has 14 miles of electric range. The big BMW news this weekend is that the 7 Series is getting plugs. But it's the same story — the electric range will be minimal (the gross capacity of the battery is just 9.2 kWh, and net capacity 7.4 kWh).
Here are the facts as we know them so far regarding the three new plug-in hybrid BMW 7 Series models:
For all 3 models
240 kW/326 hp (engine + motor combined)
peak torque of 500 Newton metres, or 369 lb-ft (engine + motor combined)
intelligent all-wheel drive
have four-cylinder petrol engine with BMW TwinPower Turbo technology (max. output = 190 kW/258 hp) and an electric motor (max. output = 83 kW/113 hp, peak torque = 250 Newton metres, or 184 lb-ft)
can include anti-dazzle BMW Laserlight
"The electric motor is fully integrated into the eight-speed Steptronic transmission. This ensures that pure-electric driving, the dynamics-enhancing electric boost function and the recuperation of braking energy are all extremely efficient. The eight-speed Steptronic transmission has outstanding internal efficiency, top-class shift dynamics and shift comfort, and a compact construction. Gearshift paddles on the steering wheel are available as an option, enabling the driver to make manual gear selections with exceptional swiftness and the greatest of ease."
In "Auto eDrive" mode, the electric motor, given there's enough charge in the battery, is the sole provider of power up to ~80 km/h (50 mph) or "under heavy throttle applications." (My experience with such systems — from driving the BMW i8, Audi A3 e-Tron, and other plug-in hybrids — is that they aren't nearly as enjoyable to drive as pure-electric cars or extended-range electric cars like the Chevy Volt and Cadillac ELR.)
In "MAX eDrive" mode, the pure-electric top speed is raised to 140 km/h (87 mph). It seems that you have the same issue of the engine mixing in, though, if you fully step on the pedal for quick acceleration.
If you want to preserve the battery and electric driving for later in a trip, you can set what percentage of the battery you want to preserve for later.