How to cook it:
Wash the vegetables. Slice the eggplant and zucchini into medium-sized rings, and cube the bell peppers.
Mix the chopped onions and garlic in a bowl, add butter, and fry in a preheated frying pan for about 5 minutes.
While the mixture is frying, wash and steam the tomatoes. Peel them and blend. Add them and the tomato paste into the frying pan and simmer for about 5 minutes.
Lay the eggplant and zucchini rings out on a baking dish, pour the tomato mixture from the pan on top, and add salt and pepper.
Cover the dish with foil and place it in the oven. Roast at 200°C (400°F) until the vegetables are soft (about 40 minutes).
When the dish is ready, sprinkle it with finely chopped greens. Serve hot.
3.Farfalle Pasta with vegetables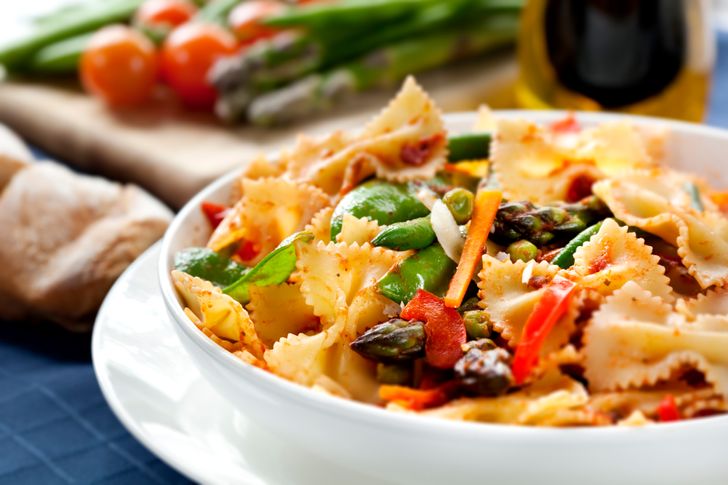 Ingredients:
Farfalle – 250 g (8.82 oz)
medium-sized onions – 2 pcs.
medium-sized carrots – 2 pcs.
celery root – 200 g (7.05 oz)
olive oil – 2 tbsp
salt and pepper to taste
paprika – 1/2 tsp
How to cook it:
Peel onions, carrots, and celery root. Finely chop onions and grate the celery and carrots.
Fry the vegetables in a pan with olive oil over high heat for 5 minutes, stirring them regularly.
Boil pasta in salted water, following the instruction on the package.
After farfalle pasta is cooked, add it to the vegetables, salt and pepper, and fry for several minutes. Sprinkle with paprika before serving.
4.French quiche with courgettes and carrots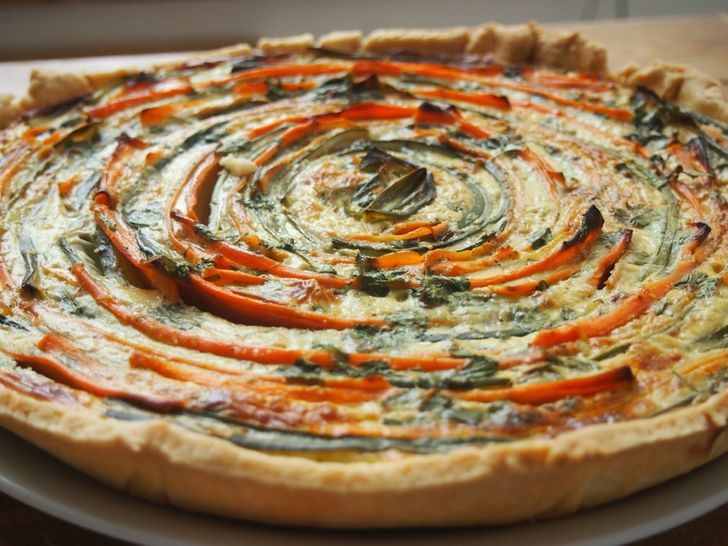 Ingredients:
medium-sized zucchini – 2 pcs.
large carrots – 4 pcs.
cream – 200 ml (7.05 oz)
milk – 100 ml (3.53 oz)
eggs – 4 pcs.
flour – 200 g (7.05 oz)
butter – 90 g (3.17 oz)
water – 80 ml (2.82 oz)
salt to taste