While the native Files app on iPhone and iPad is good enough for certain users, it certainly doesn't please most iOS users. The reason is that Apple doesn't allow users to access the internal file system. That means while there is a Files app on your device, it is next to useless when it comes to managing your device's internal files. If that is what you want to do, you will be better served by third-party file managers for iPhone which you can find on the App Store. We have tested many such apps and now bring you the list of 10 best file manager apps for iPhone that will help you manage your files in 2020.
Best Files Manaagers for iPhone and iPad in 2020
As needs may vary from person to person, we have lined up the file managers for iPhone that can take care of all the essential aspects. Aside from managing a variety of files, some of them can even double up as a private web browser. So, you can browse the web right from within the app and download the files you are looking for. And with a smart download manager, they also let you take control of all the downloads. That's not all, some of them can even work as a super handy PDF editor for on-the-go PDF management. Having said, let's start exploring the top Apple Files alternatives for iOS to find the right one!
1. Documents by Readdle
Documents is a file manager app for iOS devices, that will let you manage almost everything on your iPhone. The app comes with a variety of useful features, that will make managing files on your iOS devices a breeze. With Documents, you'll be able to access your entire Apple Music Library, along with your Photos, iCloud files, and much more. The app also supports .ZIP files, so you can easily extract ZIP files on your iPhone.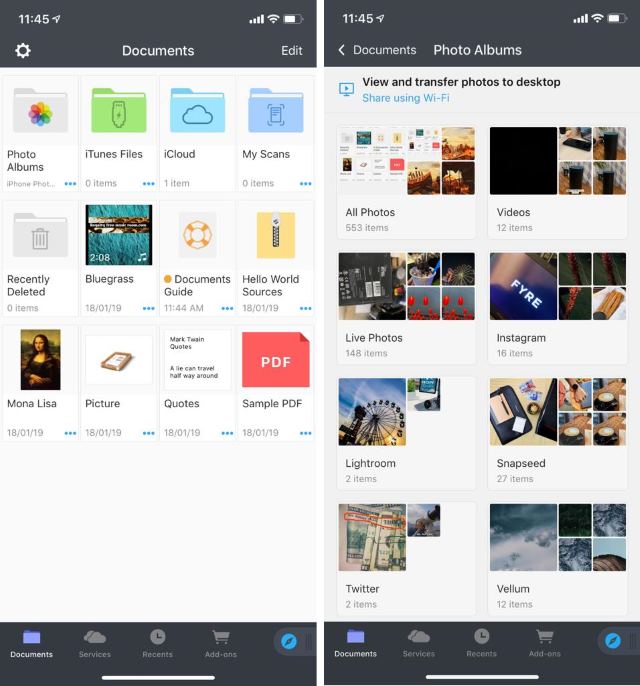 Documents will also let you listen to audio files, view images, and read PDF files, directly inside the app itself. The app also comes with a number of services, such as the ability to integrate with cloud services like Dropbox, OneDrive, and Google Drive. It will also let you create FTP servers on your iPhone, that you can connect to, using any FTP client of your choice. Plus, the app comes with a web browser built right in, so you can directly download files into the app, or simply browse the web, without leaving the app, if you want. It's one of the best file managers for iPhone that you can use in 2020.