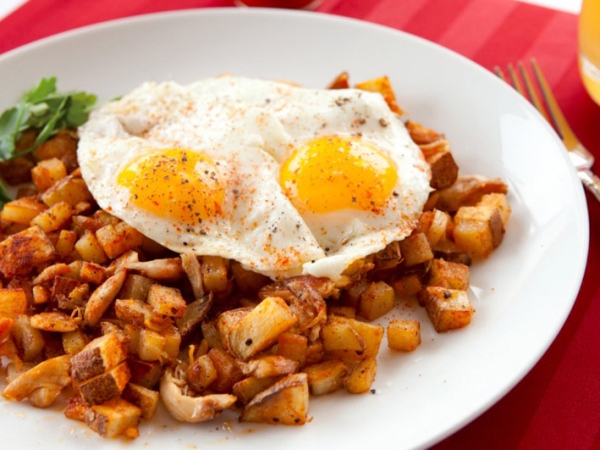 A breakfast hash is a great way to up your veggie intake, which is one of the pillars of the Mediterranean diet. This one combines sweet potato and red bell pepper for a double dose of vitamin A, which many UC patients fall short on
Ingredients
2 ½ Tbsp.

extra-virgin olive oil, divided

2 cups peeled and cubed sweet potato (about ½-in. each)

¾ cup chopped red bell pepper

¼ cup finely chopped red onion

½ tsp.

chili powder

½ tsp.

kosher salt, divided

¼ tsp.

ground cumin

2 large eggs

4 Tbsp.

prepared salsa

½ ripe avocado, sliced

Fresh cilantro for garnish (optional)
Nutrition Information
Per serving: 460 calories; 30g fat; 5g saturated fat; 186mg cholesterol; 746mg sodium; 39g carbohydrate; 9g fiber; 10g protein; 10g sugar; 84mg calcium; 2mg iron; 963mg potassium
Directions
Step 1
Heat 1 Tbsp. oil in a large skillet over medium. Add sweet potato; cook 4 to 5 minutes, until lightly golden. Add 3 Tbsp. water, cover, and cook until tender, stirring occasionally, about 7 to 8 minutes.
Add 1 Tbsp. oil, bell pepper, and onion to pan with potatoes. Cook, uncovered, until vegetables are tender, about 5 minutes. Season with chili powder, ¼ tsp. of the salt, and cumin; divide mixture between two plates.
Step 3
Add remaining ½ tsp. oil to pan. Crack eggs into pan; cook until whites are set, 3 to 4 minutes. Season with remaining ¼ tsp. salt.
Step 4
Place one egg on top of each potato mixture. Top each with 2 Tbsp. salsa, sliced avocado, and cilantro for garnish.