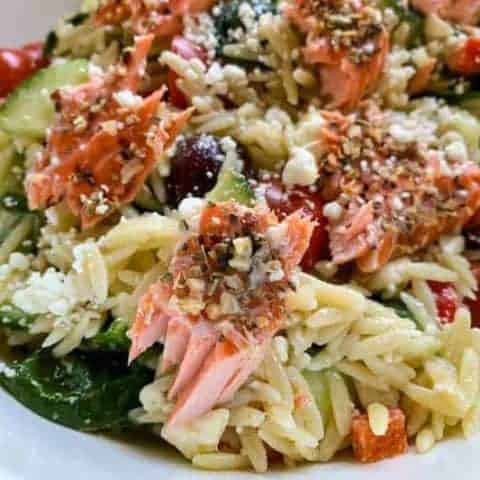 It looks a little like rice, but orzo is actually a form of short-cut white pasta, which is low in fiber and easy on UC bellies. Salmon offers omega-3 fatty acids EPA and DHA, which can help tame inflammation throughout the body
Ingredients
⅓ cup sun-dried tomatoes packed in oil, plus 2 Tbsp.

oil from jar, divided

1 cup uncooked orzo

2 cups lower-sodium vegetable broth

½ tsp.

kosher salt, divided

2 cups fresh baby spinach

1 Tbsp.

fresh lemon juice

2 (6-oz.) center-cut salmon fillets

¼ tsp.

black pepper

2 Tbsp.

fresh parsley leaves
Nutrition Information
Per serving: 375 calories; 14g fat; 2g saturated fat; 47mg cholesterol; 395mg sodium; 37g carbohydrate; 3g fiber; 23g protein; 3g sugar; 55mg calcium; 2mg iron; 577mg potassium
Directions
Step 1 Heat 1 Tbsp. sun-dried tomato oil in a medium saucepan over medium-high. Add orzo; cook 2 minutes, stirring frequently. Stir in broth and ¼ tsp salt; bring to a boil. Cover, reduce heat, and simmer 10 to 12 minutes or until broth is mostly absorbed.
Step 2 Remove pan from heat; let stand, covered, 5 minutes. Stir in spinach, sun-dried tomatoes, and lemon juice (spinach will quickly wilt).
Step 3 Meanwhile, preheat broiler with oven rack 6 inches from heat. Brush salmon with remaining 1 Tbsp. sun-dried tomato oil, and season with remaining ¼ tsp. salt and black pepper. Place fillets, skin side down, on a foil-lined baking sheet. Broil to desired degree of doneness, 8 to 10 minutes. Remove fillets from foil using a metal spatula.
Step 4 Remove and discard salmon skin; use a fork to gently pull apart flesh into large flakes; toss with orzo.
Step 5 Divide orzo salad evenly between 4 plates; garnish with fresh parsley.