PLANET EARTH IS home to some spectacular relics from bygone eras, constructions that seem to defy the technological capabilities of their time either because they're too big, too heavy, or too complex.
As such, some suggest the ancient builders of the Egyptian pyramids, the Nasca lines, and others were following an extraterrestrial instruction manual. Perhaps the hands that crafted these sites weren't really of this world.
To be sure, it's fun to think about whether aliens have visited Earth. After all, humans are on the threshold of expanding our reach in space, and places like Mars are in our sight. But the truth is, there's no evidence suggesting that aliens have ever been here. And invoking a supernatural explanation for some of the most monumental of human achievements means skipping over the fascinating ways in which prehistoric civilizations managed to make some of the largest and most enigmatic constructions on Earth.
Sacsayhuamán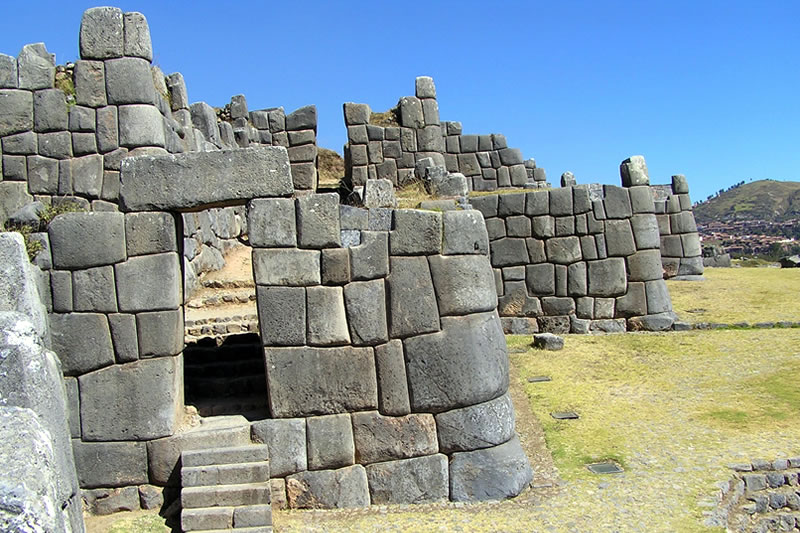 The ancient fortress of Sacsayhuamán contrasts with Cusco's modern buildings.
Outside the old Inca capital of Cusco, a fortress called Sacsayhuamán rests in the Peruvian Andes. Built from enormous stones that have been chiseled and stacked together like a jigsaw puzzle, some say Sacsayhuamán could be the work of an ancient civilization that had a little help from interstellar friends.
The 1,000-year-old interlocking fortress walls are made of rocks that weigh as much as 360 tons each, and which were carried more than 20 miles before being lifted and fit into place with laser-like precision.
How an ancient culture accomplished such a feat of engineering is a fun little problem to solve; turns out the Inca were as adept at building houses and fortified complexes as they were at watching the sky and keeping calendars. In fact, Sacsayhuamán isn't the only example of this intricate masonry: Similar walls exist throughout the Inca Empire, including one in Cusco where a 12-angled stone has been carefully wedged into place.
More recently, archaeologists have uncovered traces of the rope-and-lever system the Inca used to transport stones from their quarries to their cities—a system that relied on strength and ingenuity, rather than alien architects.
Nasca Lines
A plane glides over an ancient spider geoglyph in the Peruvian desert.
On a high and dry plateau some 200 miles southeast of Lima, more than 800 long, straight white lines are etched into the Peruvian desert, seemingly at random. Joining them are 300 geometric shapes and 70 figures of animals, including a spider, monkey, and hummingbird.
The longest of the lines run straight as an arrow for miles. The biggest shapes stretch nearly 1,200 feet across and are best viewed from the air. Scientists suspect the Nasca drawings are as many as two millennia old, and because of their age, size, visibility from above, and mysterious nature, the lines are often cited as one of the best examples of alien handiwork on Earth. Otherwise, how would an ancient culture have been able to make such huge designs in the desert without being able to fly? And why?
Turns out, it's rather easy to understand the how. Called geoglyphs, these enigmatic designs are made by removing the top, rust-colored layer of rocks and exposing the brighter white sand underneath.