It is often said that a photograph is worth a thousand words. Famous photographs created throughout the history of the medium have managed to preserve iconic historical moments for generations to come. These photographers managed to freeze a moment in time, bringing a single vision to the larger world, triggering our emotions and influencing our worldviews. By capturing what matters, some of these images have managed to change the course of history. Even as technology advances, the role of the photojournalist will remain the same – to expand our awareness of the world.
The beginning of modern photojournalism can be traced to the 1925 Germany when the first 35mm camera, the Leica, was released. Before Leica, a photo of professional quality required bulky equipment. When the first simple-to-use small format cameras reached the streets, photography was completely democratized and revolutionized as a medium that greatly affected the visual culture. As opposed to posed images that were predominant up until then, photographers were finally able to create more natural photos and capture the way people really lived. Another invention that has contributed greatly to the development of photojournalism was the photojournalism magazine. Magazines in Germany and France started to publish whole sets of pictures to illustrate a story more effectively. Editors and photographers began to work together to produce an actual story told by pictures and words. In 1936, Henry Luce conceived a new general-interest magazine relying on modern photojournalism – the Life magazine. As photographers started to be increasingly commissioned to capture important and compelling stories all around the world, the Magnum Photos agency was founded in 1947 by Henri Cartier-Bresson, Robert Capa and the others as a response to these new markets.
Often described as the illustration of an aspect of contemporary life by a series of pictures, photojournalism often overlaps with documentary and press photography that also brings the influence of a wider world into our lives. Yet, it distinguishes itself from these two types of photography by its "in-depth" nature. Relying on instinct and reaction, a photojournalist must learn how to sharpen their level of perception and organize their response to what they see.
We have compiled a list of the most iconic and famous photographs that have preserved some of the most important and compelling moments of human existence. Scroll down and enjoy!
Featured images: Alberto Korda – Guerrillero Heroico, 1960; Stuart Franklin – Tank Man, 1989; Nick Ut – The Napalm Girl, 1972; Juan Guzman – Marina Ginesta at the top of Hotel Colon in Barcelona, 1936; All images used are for illustration purpose only.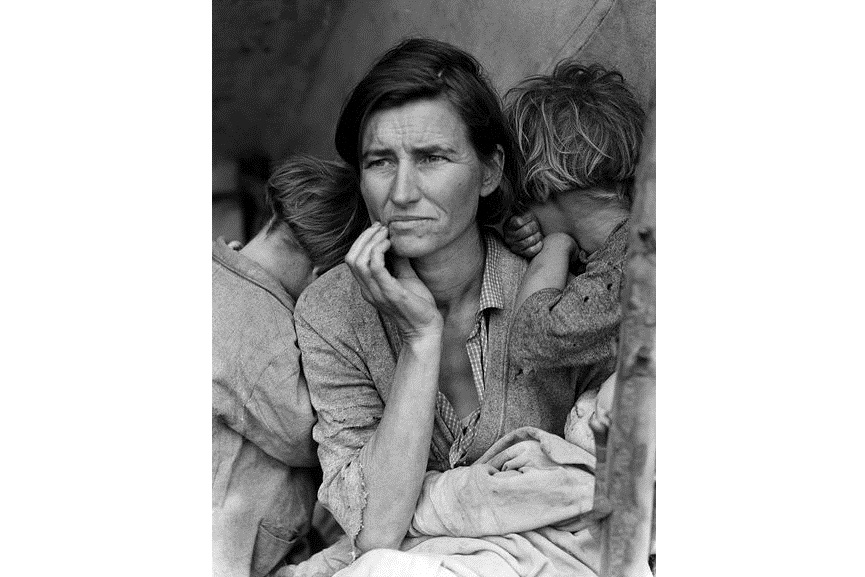 Dorothea Lange – Migrant Mother, 1936
The iconic photograph Migrant Mother by Dorothea Lange is one of a series of photographs that the photographer made of Florence Owens Thompson and her children in 1936 in Nipomo, California in a camp filled with field workers whose livelihoods were devastated by the failure of the pea crops. Lange explained she was drawn to the hungry and desperate mother and asked her to make a few shots. The mother and her children were living on frozen vegetables from the surrounding fields, and birds that the children killed. This famous photo became a symbol of the plight of migrant farm workers during the Great Depression.