There are times when you go for a mountain bike ride, and then there are times when you go out for a day on the trail. While a pocket full of snacks, a can of air and a full water bottle will largely suffice for the former, the epic ride requires much more.
A carefully stocked backpack will get you through most repairs and minor injuries, and it'll make your journey so much better. If you're unsure of where to begin, our handy list can get you started. We're busting open our trail pack to give you a look at some of the best items for a day on wheels.
The Bag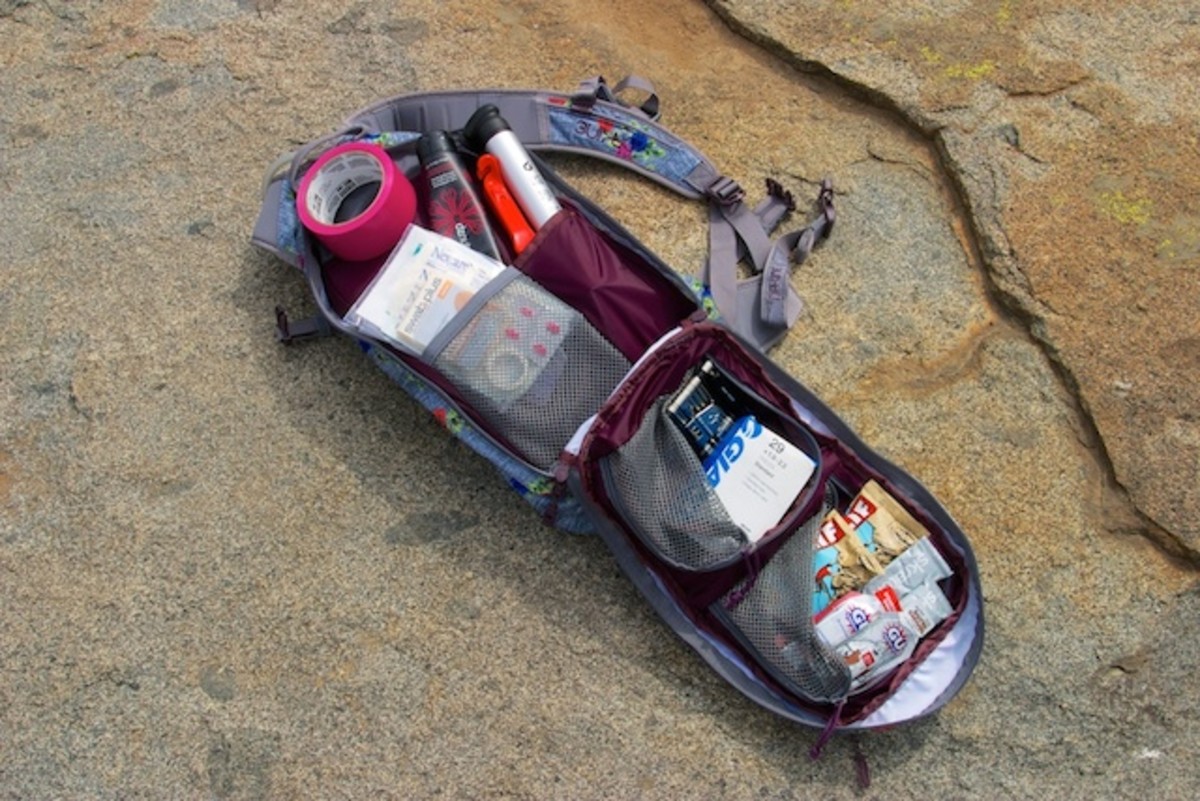 A fully loaded trail bag might not make you ride any faster, but it could help you get to your destination and back in one piece.
If you're going to be out all day, your pack has to be comfortable enough to stay on your back, as well as have enough space to schlep your gear and water.
The Dakine Drafter 12L bag (#1) is all that and more.
The integrated 100-ounce hydration reservoir can be easily cleaned and filled, with the hydration tube flowing to either the right or left strap, depending on the rider's preference.
The real standout feature of the backpack, however, is the Air Mesh suspended back-panel design. Thanks to this slick mesh panel, most of your pack is actually lifted up and off your back which allows air to breeze right through the gap.
Aside from making your back feel like you're not even wearing a pack, it prevents your body from heating your hydration sleeve during the ride, as with a typical pack.
In addition, internal pockets and organizers help keep your gear sorted, while the external helmet-carry system works for both full-face and lid-style helmets.
With five different color options for men and another three for women, there's a choice for every style of rider. Bonus points also go to Dakine for integrating a whistle into the buckle of the bag's chest strap.
The Tools
At a minimum, every trail bag has to have the basic items needed to cover minor repairs and fix flat tires. Our go-to gear includes a multi-tool, a pump, a pair of tire irons, a tube and a roll of duct tape.
Sure, your bike may be running tubeless tires, but on the off chance that you spring a leak or break a chain, having the right tools will probably save you from a long and arduous hike. Blackburn's Toolmanator 16 multi-tool (#2) is one of the best we've owned.
It literally has every hex key size that a bike will use, screwdrivers, a valve adjuster, spoke wrenches, a chain tool and even a mini shock pump for on-the-fly adjustments. Throw the one-piece aluminum-designed superstar into your pack and rest easy.
A multi-tool could save you from a broken-bike disaster, but a pump like Blackburn's Mammoth (#3) will help keep your tires inflated and running smoothly. In the event of a flat, this, in addition to a pair of tire irons and a tube, will get you back up and rolling.
It is especially important to mention here that carrying a properly-sized tube with the right kind of valve (Schrader or Presta) for your bike is paramount.
Do not rely on the kindness of strangers (or friends) on the trail as the current crop of mountain bikes can have 26-, 27.5- or 29-inch wheels, which makes sharing tubes even harder.
Bring your own spare, and if you're on a trail known to puncture tires, bring two. These giant standard 29 x 1.9–2.3 Presta-equipped tubes (#5) are what we run in an emergency and will set you back between $7 to $14 each, depending on your local shop's prices.